The AdMaS Centre
Advanced Materials, Structures and Technologies
5 372 m², four buildings, 250 research instruments. This is the AdMaS Centre, which was established by the Faculty of Civil Engineering. The institution provides our scientists with the high-quality equipment they need to devote themselves to research and development in the areas of advanced building materials, structures and technologies, and to their application not only in the field of construction, but also in transportation systems and the infrastructure of urban and rural areas.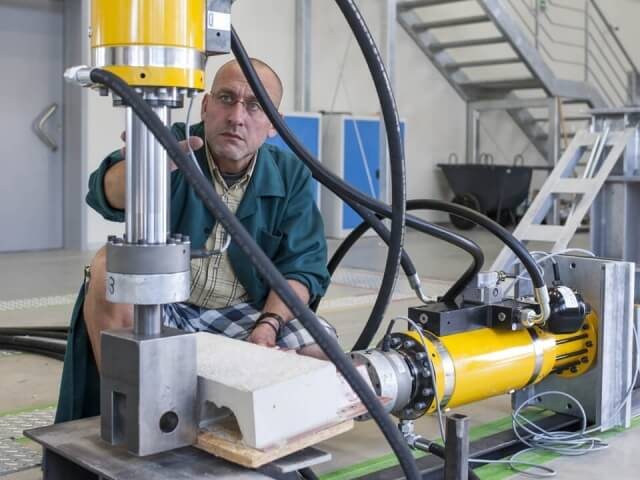 845 mil. CZK

has been invested in the research centre

120+

EU and public sector projects in the last two years

450

industry projects in the last two years
The AdMaS Centre gathers together professionals from across the spectrum of fields of construction for which materials are the lifeblood. Our task is to invent better building technologies and materials which will not only be more economical to manufacture, but also more environmentally friendly. We are thinking, for example, of how to make use of non-toxic waste substances so that they don't end up in landfills, but in the walls of houses instead.
We love building materials, so we just keep on improving the properties of existing ones and inventing still more. Smarter and greener – that's the goal.
National Competence Centre
The CAMEB project
The CAMEB (Centre for Advanced Materials and Efficient Buildings) National Competence Centre was created to concentrate knowledge and achieve innovation in the construction sector. It not only brings together the spheres of industry and research, but also forges links between civil engineering and other fields such as IT, cybernetics and process management.
The centre was established in 2019 through the cooperation of Brno University of Technology, the Czech Technical University in Prague and another 28 partner universities and private companies.
Researchers at the Faculty of Civil Engineering are directly involved in five sub-projects. We're focusing on the improvement of existing technologies, materials and processes in concordance with general industry trends.
We're searching for resources for the buildings of the future