5th International Conference
Non-Traditional Cement & Concrete
June 16--19, 2014
Brno, Czech Republic

Brno University of Technology
and
ZPSV, a.s.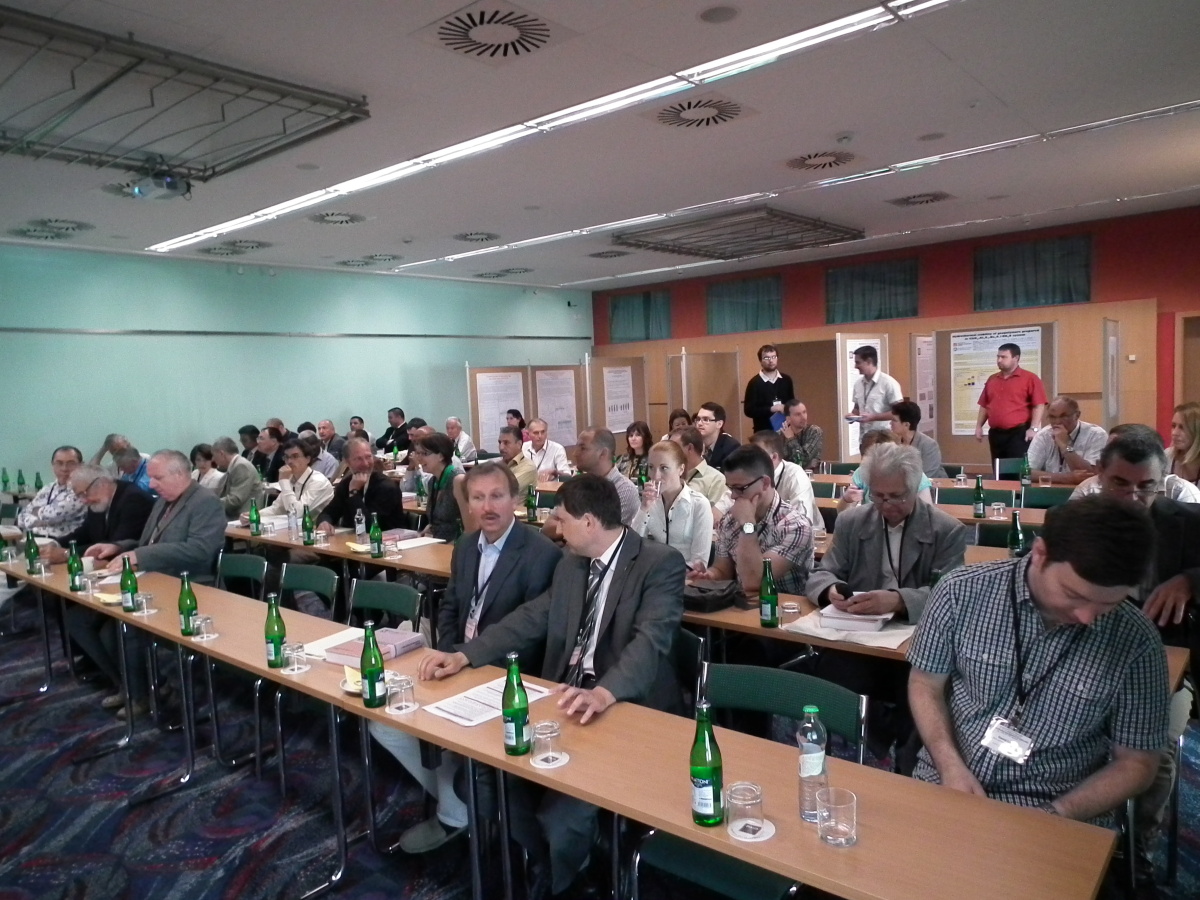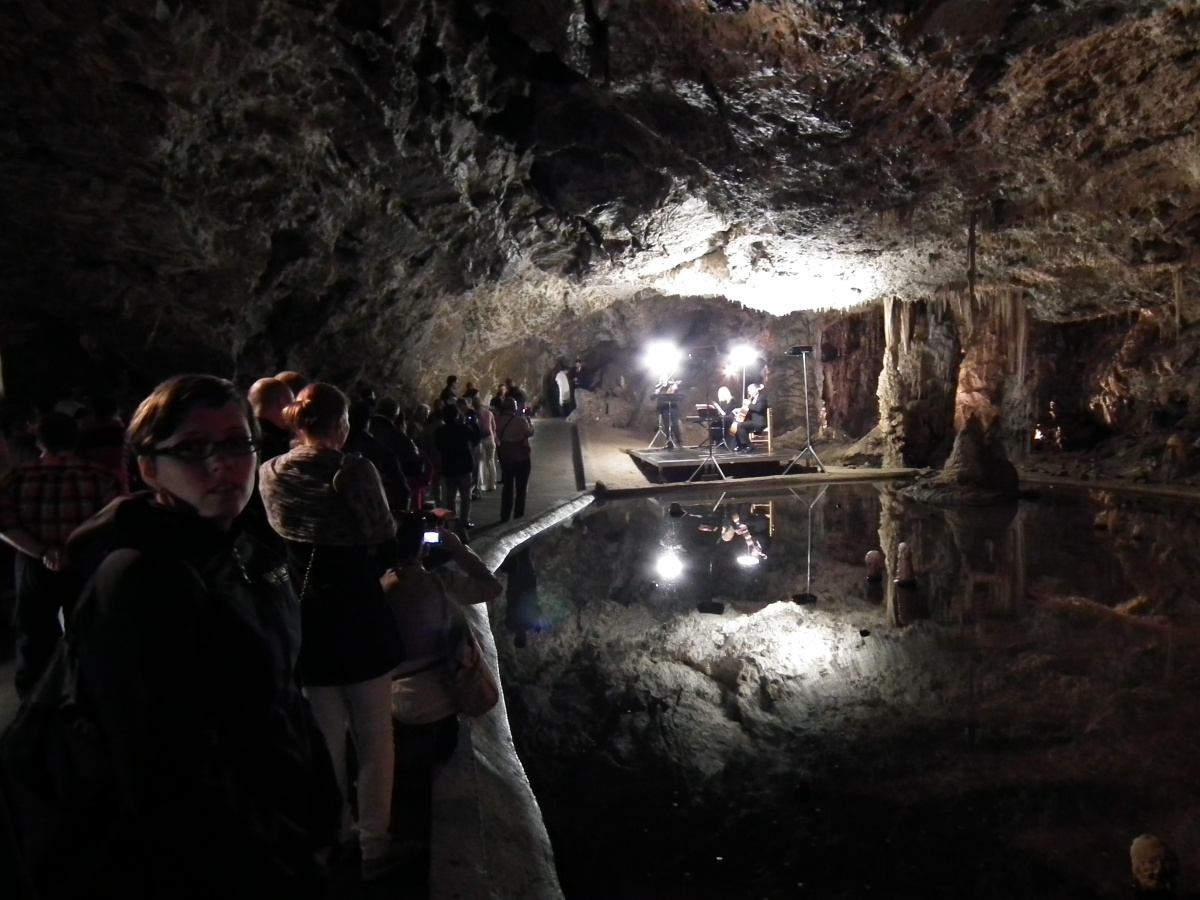 Background
Topics
Organisation of the Conference
Honorary Advisory Panel
Advisory Panel
Call for Papers
Calendar
Camera-ready Paper -- Templates
Final Programme
Accepted Abstracts / Poster Presentations
Location & Transport
Accommodation
Registration Fee
Way of Payment
Organising Committee
Contact Address
---
BACKGROUND
The sustainable development of the building industry as well as new applications require concretes of specific properties. These concretes prove useful in terms of laboratory testing, but difficulties arise in their practical application and in behaviour prediction as they diverge from common routines, norms and recommendations. The putting of non-traditional concretes into practice represents therefore an interdisciplinary problem. The conference will focus on the exchange of the experience of the research, preparation, testing and application of these materials.
We know that today's non traditional cements and concretes may become traditional tomorrow. It would be a wonderful thing if this conference also contributed its share towards this goal.
---
TOPICS
| | | |
| --- | --- | --- |
| 1. | | Geopolymers |
| 2. | | Alkali-Activated Composites |
| 3. | | Clinker-free concrete |
| 4. | | Concrete with mineral and chemical admixtures |
| 5. | | High Performance Concrete |
| 6. | | Durability of non-traditional concrete |
| 7. | | Sustainable development |
| 8. | | Damage and fracture of non-traditional concrete |
| 9. | | Quality control of non-traditional concrete |
| 10. | | Construction from non-traditional concrete |
---
ORGANISATION OF THE CONFERENCE
The Conference is organised by Brno University of Technology and ZPSV, a.s. (Railway Industrial Building Production), and it is supported by the Czech Concrete Society (CBS). This partnership between the University and the production company demonstrates that the Conference is focused on both theoretical and practical problems in the field of non-traditional cements and concretes (NTCC) within the activities of research projects.
---
HONORARY ADVISORY PANEL
| | | | | | |
| --- | --- | --- | --- | --- | --- |
| P.-C. AITCIN (Canada) | | D. BJEGOVIC (Croatia) | | J. BRANDŠTETR (CZ) | |
---
ADVISORY PANEL
| | | | | | |
| --- | --- | --- | --- | --- | --- |
| H. ABDELGADER (Libya) | | G. BALAZS (Hungary) | | N. DE BELIE (Belgium) | |
---
CALL FOR PAPERS
Call for papers No. 1 NTCC2014_CFP1.pdf.
---
All the selected papers will be published in International Journal of Research in Engineering and Technology (IJRET.pdf) after the conference. For more information about the journal, please log on to www.ijret.org.

---
CALENDAR
| | | |
| --- | --- | --- |
| November 30, 2013 | | Deadline for abstracts |
| December 15, 2013 | | Notification of acceptance |
| April 30, 2014 | | Submission of camera-ready papers |
| June 16--19, 2014 | | Conference held in Brno |
---
CAMERA-READY PAPER AND ABSTRACT -- TEMPLATES
Camera-ready paper templates can be downloaded as following files: 1) Manuscript Template for publishing in the International Journal of Research in Engineering and Technology (full text) NTCC2014_ManuscriptTemplate_FullText.doc and 2) Manuscript Template for publishing in the Conference Proceeding (extended abstract -- 2 or 4 pages) NTCC2014_ManuscriptTemplate_Abstract.doc. Sample paper can be downloaded as file NTCC2014_SamplePaper.doc. Deadline for submission of camera-ready manuscripts is April 30, 2014.
---
FINAL PROGRAMME
At this moment a final programme is available: NTCC2014_FinalProgramme.pdf.
---
ACCEPTED ABSTRACTS
H. S. ABDELGADER, A. S. EL-BADEN, Libya
INVESTIGATIONS ON SOME PROPERTIES OF TWO-STAGE (PRE-PLACED AGGREGATE) CONCRETE
M. M. ABURAWI, Libya
CHARACTERISTICS OF CEMENT MIXED WITH WASTE LOCAL POWDERED CLAY BRICKS
T. ARENDS, A. TAHER, A. J. J VAN DER ZANDEN, H. J. H. BROUWERS, The Netherlands
A MODEL DESCRIBING WATER AND SALT MIGRATION IN CONCRETE DURING WETTING/DRYING CYCLES
A. ARTAMONOVA, K. K. VORONIN, Russia
SLAG-ALKALI FINE-GRAINED CONCRETE ON THE BASIS OF CENTRIFUGAL-IMPACT GROUND STEEL-SLAG BINDER
E. C. ARVANITI, J. DILS, G. DE SCHUTTER, N. DE BELIE, Belgium
HYDRATION PROPERTIES AND MECHANICAL STRENGTH OF HIGH PERFORMANCE MORTAR CONTAINING DIFFERENT TYPES OF SILICA FUME
E. C. ARVANITI, M. DE SCHEPPER, K. DE BUYSSER, I. VAN DRIESSCHE, N. DE BELIE, Belgium
SULFATES AND CHLORIDES IN COMPLETELY RECYCLABLE CONCRETE CLINKER AND THEIR INFLUENCE ON THE BURNABILITY OF THE RAW MEAL
D. BAJARE, G. BUMANIS, Latvia
ALKALI DIFFUSION IN POROUS ALKALI ACTIVATED MATERIALS
A. BALAGUER PASCUAL, M. TOHOUE TOGNONVI, A. TAGNIT-HAMOU, Canada
WASTE GLASS POWDER-BASED ALKALI-ACTIVATED CONCRETE
D. BARBIR, P. DABIĆ, A. LISICA, Croatia
ASSESSMENT OF THE LEACHABILITY AND MECHANICAL STABILITY OF ELECTROPLATING WASTE AND WASTE ZEOLITE BINDING WITH PORTLAND CEMENT
M. BATOG, T. PUŻAK, Poland
SCC WITH CEM II/A-S 52,5N AND HIGH FLY ASH ADDITION IN PRECAST ELEMENTS PRODUCTION
V. BILEK, S. SEITL, Z. KERSNER, Czech Republic
FATIGUE BEHAVIOUR OF ALKALI-ACTIVATED CONCRETE
A. CASTEL, S. FOSTER, Australia
TIME-DEPENDENT BEHAVIOUR OF A CLASS F FLY ASH-BASED GEOPOLYMER CONCRETE
C. COSTA, C. FERREIRA, Portugal
ALKALI-ACTIVATED BINDERS PRODUCED FROM PETROCHEMICAL FLUID CATALYTIC CRACKING CATALYST WASTE
J. DEJA, Ł. KOŁODZIEJ, Poland
INFLUENCE OF THE TYPE AND AMOUNT OF ACTIVATOR, AND THE RATIO A/S (AL2O3/SIO2) AND C/S (CAO/SIO2) PRESENTED IN THE FLY ASH SYNTHETIC GLASSES ON THEIR ABILITY TO ALKALINE ACTIVATION OR GEOPOLYMERIZATION
R. DIRGANTARA, D. W. LAW, T. K. MOLYNEAUX, Australia, Indonesia
DURABILITY OF BROWN COAL FLY ASH GEOPOLYMER CONCRETE
G. C. H. DOUDART DE LA GRÉE, Q. L. YU, H. J. H. BROUWERS, The Netherlands
WOOD-WOOL CEMENT BOARDS: A STATE OF THE ART REVIEW
J. DRAGAŠ, S. MARINKOVIĆ, I. IGNJATOVIĆ, N. TOŠIĆ, Serbia
CONCRETE BASED ON ALKALI ACTIVATED FLY ASH FROM ONE POWER PLANT IN SERBIA
V. ELFMARKOVA, P. SPIESZ, H. J. H. BROUWERS, The Netherlands
DETERMINATION OF THE CHLORIDE DIFFUSION COEFFICIENT DRCM FOR OPC, GGBS, FA AND SF MORTARS
N. A. EROSHKINA, M. O. KOROVKIN, Russia
GEOPOLYMER BINDER BASED ON MAGMATIC ROCKS AND CONCRETE ON THEIR BASIS
V. R. FALIKMAN, N. F. BASHLYKOV, Russia
ENVIRONMENTAL FRIENDLY CEMENTS WITH LOW CLINKER CONTENT
A. FERNÁNDEZ-JIMÉNEZ, K. ARBI, A. PALOMO, Spain
ALKALI-ACTIVATED BLENDS OF CALCIUM ALUMINATE CEMENT WITH SLAG, FLY ASH OR DIATOMITE
G. FERRARI, M. MIYAMOTO, A. FERRARI, K. YODA, Italy/Japan
PERFORMANCE AND DURABILITY OF SUSTAINABLE CONCRETE MADE WITH AGGREGATES PRODUCED FROM RETURNED CONCRETE
M. V. A. FLOREA, H. J. H. BROUWERS, The Netherlands
APPLICATION OF BOTTOM ASH FINES IN MORTARS
T. FUJII, T. AYANO, Japan
DURABILITY OF CONCRETE WITH BLAST FURNACE SLAG
X. GAO, R. YUL, H. J. H. BROUWERS, Z. H. SHUI, The Netherlands, China
ALKALI ACTIVATION OF METAKAOLIN BLENDED WITH SLAG AND LIMESTONE POWDER
I. GARCÍA-LODEIRO, A. PALOMO, A. FERNÁNDEZ-JIMÉNEZ, Spain
HYBRID ALKALINE CEMENTS: HYDRATION KINETICS STUDY DURING THE EARLY REACTION STAGES
M. S. GARKAVI, A. V. ARTAMONOV, E. V. KOLODEZHNAYA, Russia
COMPOSITE SLAG ANHYDRITE BINDER
M. S. GARKAVI, A. V. ARTAMONOV, E. V. KOLODEZHNAYA, A. V. ARTAMONOVA, K. M. VORONIN, E. A. TROSHKINA, Russia
CEMENTS OF CENTRIFUGAL IMPACT MILLING
H. Y. GHORAB, M. RIZK, S. F. ABD ELNABY, K. M. YOUSRI, H. H. AHMED, D. HERFORT, K.I. ISMAIL, Y. A. OSMAN, Egypt
THE SUITABILITY OF PORTLAND LIMESTONE CEMENT FOR USE IN CONSTRUCTION APPLICATIONS IN EGYPT
Z. GIERGICZNY, D. DZIUK, T. PUŻAK, M. BATOG, Poland
PRACTICAL USE OF CALCAREOUS FLY ASH IN PORTLAND-COMPOSITE CEMENT CEM II/B-M (V-W) 32,5R INDUSTRIAL PRODUCTION
G. J. G. GLUTH, C. LEHMANN, K. RÜBNER, H.-C. KÜHNE, Germany
INFLUENCE OF SODIUM CONCENTRATION OF THE ACTIVATING SOLUTION ON THE HYDRATION OF CALCIUM-CARBONATE-RICH WASTEPAPER SLUDGE ASH
J. GOŁASZEWSKI, G. CYGAN, M. DREWNIOK, A. KILIJANEK, Poland
RHEOLOGICAL PROPERTIES OF SCC IN TERMS OF ITS THIXOTROPIC BEHAVIOR
Ł. GOŁEK, J. DEJA, Poland
THE INFLUENCE OF THE GLASS CULLET ADDITION ON THE PROPERTIES OF MORTARS
Ł. GOŁEK, E. KAPELUSZNA, Poland
ALKALI ACTIVATION OF MANTICELLITE GLASS – CaO-MgO-SiO2 SYSTEM
V. GONZALEZ, B. VARELA, J. VOELKEL, USA
AN INVESTIGATION INTO THE FACTORS AFFECTING THE SETTING TIME AND COMPRESSIVE STRENGTH OF ALKALI-ACTIVATED SLAG BINDERS REINFORCED WITH WOLLASTONITE
V. GOTS, R. RUNOVA, I. RUDENKO, O. LASTIVKA, Y. GOVDUN, Ukraine
FEATURES IN STRUCTURE FORMATION OF MODIFIED ALKALI ACTIVATED SLAG CEMENTS
S. GREISER, G. J. G. GLUTH, P. STURM, H. J. H. BROUWERS, CH. JÄGER, Germany, The Netherlands
1H-27Al, 27Al-1H AND 27Al-29Si DOUBLE RESONANCE NMR OF ONE-PART GEOPOLYMERS
M. IGUCHI, H. FUJIWARA, M. MARUOKA, N. HOSHIYAMA, Japan
DEVELOPMENT OF ULTRA HIGH STRENGTH FIBER REINFORCED CONCRETE PRODUCED AT NORMAL TEMPERATURE
I. JANOTKA, L. KRAJCI, P. UHLIK, M. BACUVCIK, Slovakia
NATURAL AND CALCINED CLAYEY DIATOMITE AS CEMENT SUBSTITUTIONS: MICROSTRUCTURE AND PORE STRUCTURE STUDY
H. JUSTNES, Norway
DESIGNING ALTERNATIVE BINDERS UTILIZING SYNERGIC REACTIONS
P. KARA, Latvia
DURABILITY OF CONCRETE WITH WASTE GLASS SLURRY
Z. KERŠNER, P. SCHMID, P. ROVNANÍKOVÁ, Czech Republic
MECHANICAL FRACTURE PARAMETERS OF CONCRETE WITH ZEOLITES
M. I. KHALIULLIN, R. Z. RAKHIMOV, A. R. GAIFULLIN, Russia
CONCRETES BASED ON NO-CLINKER COMPOSITE GYPSUM BINDER WITH ENHANCED WATER RESISTANCE AND INDUSTRIAL WASTE
E. KHUDOVEKOVA, Russia
FOAM CONCRETE BASED ON ALKALI ACTIVATED BINDER FROM STEEL SLAG
A. F. KHUZIN, Russia
INFLUENCE OF MULTIWALLED CARBON NANOTUBES TO THE PROPERTIES AND STRUCTURE OF CEMENT STONE
M. KOMLJENOVIĆ, Z. BAŠČAREVIĆ, N. MARJANOVIĆ, V. NIKOLIĆ. Serbia
ALKALI-ACTIVATED SYSTEMS – DURABILITY ASPECTS AND TESTING PROCEDURES
J. KOPLÍK, L. KALINA, J. MÁSILKO, F. ŠOUKAL, Czech Republic
FIXATION OF HEAVY METALS IN ALKALI-ACTIVATED ALUMINO-SILICATE MATRICES
O. KOROVKIN, A. I. SHESTERNIN, Russia
RECYCLED CONCRETE AS AGGREGATE FOR SCC
N. I. KOZHUKHOVA, I. V. ZHERNOVSKY, Russia
INFLUENCE OF HIGH-TEMPERATURE EFFECT ON MICROSTRUCTURE FORMATION IN GEOPOLYMERS BASED ON LOW-CALCIUM FLY ASH
A. L. KRISHAN, M. A. KRISHAN, E. A. TROSHKINA, Russia
THE CALCULATION OF STRENGTH OF CONCRETE FILLED STEEL TUBE COLUMNS OF SQUARE CROSS SECTION
P. KRIVENKO, H. CAO, O. PETROPAVLOVSKY, L. WENG, V. PUSHKAR, Ukraine, China
EFFECT OF TECHNOLOGY OF MANUFACTURING THE ALKALI ACTIVATED CEMENT CONCRETES: POROUS STRUCTURE AND FROST RESISTANCE
P. KRIVENKO, S. GUZII, V. KIRITCHOK, Ukraine
GEOCEMENT-BASED COATINGS FOR PROTECTION OF CONCRETE FROM EXPOSURE OF SULPHATE SALTS
P. KRIVENKO, O. KOVALCHUK, Ukraine
CARBONATION OF ALKALI ACTIVATED CONCRETES: REASONS, TEST METHODS, PREDICTION OF DURABILITY
P. KRIVENKO, O. KOVALCHUK, V. GRABOVCHAK, S. BONDARENKO, Ukraine
THE WATER TRANSPORT OF Na+-IONS IN ALKALI ACTIVATED FLY ASH CEMENT STONE
P. KRIVENKO, R. RUNOVA, I. RUDENKO, O. KONSTANTYNOVSKYI, Ukraine
POTENTIAL OF ALKALI ACTIVATED PORTLAND CEMENT-BASED DRY MIXES FOR ANCHORING APPLICATION
I. LANCELLOTTI, CH. PONZONI, L. BARBIERI, C. LEONELLI, Italy
SUSTAINABLE UNCONVENTIONAL ALUMINOSILICATE PRECURSORS FOR GEOPOLYMERS
A. LAZARO, G. QUERCIA, H. J. H. BROUWERS, The Netherlands
SYNTHESIS OF NANO-SILICA AT LOW TEMPERATURES AND ITS APPLICATION IN CONCRETE
N. L. B. LE, P. STROEVEN, The Netherlands
PACKING ISSUE IN CEMENT BLENDING FOR SUSTAINABILITY DEVELOPMENTS; APPROACH BY DISCRETE ELEMENT METHOD
D. LOGON, Poland
THE APPLICATION OF ACOUSTIC EMISSION TO DIAGNOSE THE DESTRUCTION PROCESS IN SRCC CEMENT COMPOSITES
D. LOGON, Poland
THE ROPE EFFECT IN GEOPOLYMER COMPOSITES
S. LORENCIK, Q. L. YU, H. J. H. BROUWERS, The Netherlands
DEVELOPMENT OF A PHOTOCATALYTIC CONCRETE FOR AIR QUALITY IMPROVEMENT BY IMMOBILIZATION OF VISIBLE LIGHT RESPONSIVE PHOTOCATALYST
I. MERTA, Austria
HEMP FIBRE REINFORCED FOAM CONCRETE: DISCUSSION OF THE TEST METHOD FOR EVALUATION OF THE FRACTURE ENERGY
M. N. MUŽEK, J. ZELIĆ, Croatia
THE EFFECT OF AGING CONDITIONS ON THE DEVELOPMENT OF MECHANICAL PROPERTIES OF FLY ASH-BASED GEOPOLYMER
V. V. NELUBOVA, N. V. PALENKO, V. V. STROKOVA, Russia
CELLULAR COMPOSITES OF NATURAL AND AUTOCLAVED HARDENING WITH APPLICATION OF NANOSTRUCTURED BINDER
M. T. PALOU, M. BOHÁČ, M. KULIFFAYOVÁ, T. IFKA, Ľ. BÁGEĽ, Slovakia
PORE STRUCTURE AND MICROSTRUCTURE ANALYSIS OF G-OIL WELL CEMENT CURED UNDER HIGHER HYDROTHERMAL CONDITIONS
I. PAPAYIANNI, S. KONOPISSI, K. DATSIOU, F. KESEKIDOU, Greece
PRODUCTS OF ALKALI-ACTIVATED CALCAREOUS FLY ASH AND GLASS CULLET
J. PAWLUK, W. KURDOWSKI, Poland
THE PROBLEM OF DURABILITY OF THE SLEEPERS FROM PRESTRESSED CONCRETE
T. M. PETROVA, O. M. SMIRNOVA, S. V. POLOVZEV, Russia
BY-PRODUCTS WITH CARBON NANOSTRUCTURES AS ADDITIVES IN ALKALI-ACTIVATED SLAG CONCRETE
R. POUHET, M. CYR, France
ALKALI–AGGREGATE REACTION IN METAKAOLIN BASED GEOPOLYMER MORTAR
K. K. PUSHKAROVA, M. V. SUKHANEVYCH, K. V. BONDAR, Ukraine
PENETRABILITY OF WATERPROOFING COATING BASED ON SLAG -CONTAIN CEMENT, MODIFIED BY NATURAL ZEOLITES
K. K. PUSHKAROVA, M. V. SUKHANEVYCH, A S. MARTSIKH, Ukraine
PORTLANDCEMENT MORTARS AND CONCRETES MODIFIED BY CARBON NANOTUBES IN SOLUTIONS OF PLASTICIZERS
RADHAKRISHNA, VENUGOPAL, VINOD.S, India
PROPERTIES OF GEOPOLYMER AND FAL-G COMPOSITES FOR SUSTAINABILITY
N. R. RAKHIMOVA, R. Z. RAKHIMOV, Russia
HYDRATED CEMENT AS AN ADMIXTURE TO ALKALI-ACTIVATED SLAG CEMENT
P. ROVNANIK, P. BAYER, L. TOPOLAR, P. SCHMID, Z. KERSNER, Czech Republic
EFFECT OF CARBON NANOTUBES ON THE FRACTURE MECHANICAL PROPERTIES OF ALKALI ACTIVATED SLAG MORTARS
P. ROVNANÍKOVÁ, P. ROVNANÍK, Czech Republic
CORROSION BEHAVIOUR OF CONCRETE WITH PARTIALLY REPLACEMENT OF PORTLAND CEMENT BY ZEOLITES
M. J. SÁNCHEZ-HERRERO, A. FERNÁNDEZ-JIMÉNEZ, A. PALOMO, Spain
ALKALINE HYDRATION OF TRICALCIUM ALUMINATE AND CALCIUM SULPHOALUMINATE
C. SANNOH, T. HASHIMOTO, T. KUBO, Japan
THE SUPPRESSING EFFECT OF FLY ASHES ON ALKALI-SILICA REACTION OF RC SPECIMENS EXPOSED ON SEASHORE
P. SANTIZO, A. WALDRON, B. VARELA, USA
OPTIMIZATION OF ALKALI ACTIVATION OF GROUND GRANULATED SLAG WITH MINE TAILINGS
P. K. SARKER, K. V. RAMGOLAM, Australia
EFFECT OF LOADING RATE ON THE FRACTURE ENERGY OF GEOPOLYMER CONCRETE
A. SATOH, M. SATOH, K. YAMADA, Japan
PERFORMANCE OF SHALLOWLY EMBEDDED ANCHORAGE IN PERMANENT FORM MADE OF THIN HPFRC
C. SEKI, H. FUJIWARA, M. MARUOKA, S. SUZUKI, K. SAITO, Japan
STUDY ON THE EFFECT OF VARIOUS ALKALI ACTIVATOR ON THE PROPERTIES OF CLINKER FREE CONCRETE
M. SERDAR, I. BILJECKI, D. BJEGOVIĆ, Croatia
HIGH-PERFORMANCE CONCRETE WITH HIGH VOLUME OF INDUSTRIAL BY-PRODUCTS
K. SHAFIEI, B. HILLEMEIER, Germany
FEASIBILITY OF PLASMA TECHNOLOGY UTILIZATION IN CONCRETE INDUSTRY
K. SHAFIEI, B. HILLEMEIER, Germany
STUDYING THE EFFECT OF A GLAUCONITE BASED CLAY MINERAL ON THE PROPERTIES OF CEMENT MORTAR
M. DE SCHEPPER, K. DE BUYSSER, I. VAN DRIESSCHE, N. DE BELIE, Belgium
QUANTIFICATION OF CEMENT HYDRATION BY XRD/RIETVELD ANALYSIS
K. SCHOLLBACH, H. POELLMANN , The Netherlands, Germany
THE INFLUENCE OF MAGNESIUM OXIDE REACTIVITY ON THE HYDRATION BEHAVIOUR OF MAGNESIA CEMENT
P. SILER, P. BAYER, T. SEHNAL, I. KOLAROVA, T. OPRAVIL, F. SOUKAL, Czech Republic
EFFECTS OF HIGH-TEMPERATURE AND FLUIDIZED BED COMBUSTION ASHES ON THE HYDRATION OF PORTLAND CEMENT
O. M. SMIRNOVA, T. M. PETROVA, Russia
PROPERTIES OF MINERAL FILLERS AS ADDITIVES IN HIGH PERFORMANCE CONCRETE
C. M. G. DE SOUZA, S. GREISER, E. GARCIA, V. A. QUARCIONI, CH. JÄGER, Brazil, Germany
EVALUATION OF POZZOLANIC REACTIVITY OF CALCINED KAOLINITE
C. M. G. DE SOUZA, S. GREISER, E. GARCIA, V. QUALCIONI, CH. JÄGER, Brazil, Germany
CHARACTERIZATION OF SUGARCANE ASH FOR USE AS POZZOLANIC MATERIAL AS ADDITION TO PORTLAND CEMENT
N. STEVULOVA, J. CIGASOVA, L. KIDALOVA, E. TERPAKOVA, J. JUNAK, Slovakia
BIOCOMPOSITES BASED ON HEMP HURDS
C. STRAUB, G. QUERCIA, H. J. H. BROUWERS, The Netherlands
DEVELOPMENT OF ECO AUTOCLAVED AERATED CONCRETE – INFLUENCE OF THE RAW MATERIAL ON THE GREEN-BODY PERFORMANCE
P. STURM, G. J. G. GLUTH, W. SCHMIDT, A. ASTORG, H.-C. KÜHNE, H. J. H. BROUWERS, Germany, The Netherlands
RHEOLOGICAL PROPERTIES OF MICROSILICA AND SODIUM ALUMINATE BASED ONE-PART GEOPOLYMERS COMPARED WITH ORDINARY PORTLAND CEMENT
M. V. SUKHANEVYCH, Ukraine
THE CEMENTITIOUS COMPOSITIONS MODIFIED BY ALUMINO-SILICA NANOADDITIVES BY TUBULARY AND LAYERED STRUCTURE
Š. ŠACHLOVÁ, Z. PERTOLD, A. ŠŤASTNÁ, Czech Republic
FACTORS AFFECTING DEF AND ASR IN CONCRETE DAM VRANÉ NAD VLTAVOU
H. ŠÁCHOVÁ, P. HUŇKA, Czech Republic
MIX DESIGN OF HVFAC IN CZECH REPUBLIC – PROBLEMS AND SOLUTIONS
A. TAHER, J. M. HOFSTEDE, A. J. J VAN DER ZANDEN, H. J. H. BROUWERS, The Netherlands
THE INFLUENCE OF AIR IN MORTAR ON THE RESULTS OF THE RCM-TEST
P. TANG, M. V. A. FLOREA, P. SPIESZ, H. J. H. BROUWERS, The Netherlands
THE APPLICATION OF TREATED MSWI BOTTOM ASH AS BINDER AND ITS EFFECTS ON THE DURABILITY OF MORTAR
M. TORRES-CARRASCO, M. T. TOGNONVI, A. TAGNIT-HAMOU, F. PUERTAS, Spain, Canada
RE-USE OF WASTE GLASS IN THE PREPARATION OF ALKALI-ACTIVATED SLAG CEMENTS AND CONCRETES. MECHANICAL BEHAVIOUR AND DURABILITY
V. TURCHIN, L. YUDINA, A. HAMATOVA, A. PETRUKHINA, Russia
SULPHATIC CORROSION SLAG-ALKALINE BINDER ON THE BASIS OF FUEL SLAGS AND ASHES
C. VARGA, M. M. ALONSO, J. MEJÍA, R. MEJÍA DE GUTIERREZ, F. PUERTAS, Spain, Colombia
DECALCIFICATION PROCESS IN ALKALI ACTIVATED SLAG PASTES. INFLUENCE OF CHEMICAL COMPOSITION OF THE SLAGS
J. VERA-AGULLO, Í. LARRAZA, Spain
GREEN CAST: DEMONSTRATION OF INNOVATIVE LIGHTWEIGHT CONSTRUCTION COMPONENTS MADE OF RECYCLED ASHES FOR SUSTAINABLE BUILDINGS
M. VYSVARIL, M. CHROMA, P. BAYER, Czech Republic
THE EFFECT OF WATER/CEMENT RATIO ON THE SULFATE CORROSION OF FINE GRAINED CONCRETE
A. WALDRON, B. VARELA, USA
EXPERIMENTAL INVESTIGATION OF MICRO-REINFORCED ALKALI-ACTIVATED GROUND GRANULATED BLAST FURNACE SLAG WITH WOLLASTONITE
B. WALKLEY, J. L. PROVIS, S. N. RACKEL, J. S. J. VAN DEVENTER, Australia, United Kingdom
STRUCTURAL ANALYSIS OF BIPHASIC STOCHIOMETRICALLY CONTROLLED GEOPOLYMERS
P. M. F. VAN DE WOUW, G. C. H. DOUDART DE LA GRÉE, M. V. A. FLOREA, H. J. H. BROUWERS, The Netherlands
UTILIZATION OF RECYCLED CONCRETE AGGREGATES IN STRUCTURAL CONCRETE BLOCKS BY APPLYING A FRACTION PARTITIONING MODEL
Q. L. YU, D. M. A. HUISKES, P. R. SPIESZ, B. YUAN, X. GAO, A. KEULEN, G. C. H. DOUDART DE LAR GREE, H. J. H. BROUWERS, The Netherlands
DESIGN AND PERFORMANCE EVALUATION OF GEOPOLYMER BASED LIGHTWEIGHT CONCRETE
R. YU, P. SPIESZ, H. J. H. BROUWERS, The Netherlands
IMPACT RESISTANCE CAPACITY OF THE ULTRA-HIGH PERFORMANCE HYBRID FIBRE REINFORCED CONCRETE (UHPHFRC): EXPERIMENTAL AND MODELING STUDY
B. YUAN, X. GAO, H. J. H. BROUWERS, The Netherlands
COHESIVE STRENGTH OF SLAG-BASED GEOPOLYMER MORTAR WITH DIFFERENT MODULE RATIOS AND CONCENTRATIONS OF ALKALI ACTIVATOR
N. ZUNTHONAROON, M. SAPPAKITTIPAKORN, P. LAORATANAKUL, Thailand
DRYING SHRINKAGE AND THERMAL EXPANSION OF SYNTHESIZED LIGHTWEIGHT AGGREGATE CONCRETE
---
LOCATION – BRNO CITY AND TRANSPORT INFORMATION
The 5th International Conference Non-Traditional Cement and Concrete will be held from 16th to 19th June 2014 in Brno. Brno is the second largest city in the Czech Republic and the metropolis of South Moravia. About 400.000 people live there. There are many cultural, historical and other sights (see for example http://www.brno.cz/).
Brno is located 200 km from Prague and 150 km from Vienna (Austria). There are international airports in both of the cities. Many express trains and buses connect these cities with Brno.
Brno has a small international airport but the connection services are fairly limited (http://www.brno-airport.cz/en/). We recommend using the Prague airport (240 km) or the Vienna airport (150 km).
Transport from Prague
You can find a suitable coach or train connection on http://jizdnirady.idnes.cz/vlakyautobusymhdvse/spojeni/ – for English version, tick the flag symbol in right bottom corner.
To get from the airport (Terminal 1 and Terminal 2) to the main railway station (Hlavni nadrazi) we recommend using Airport express no. 44, see http://jrportal.dpp.cz/DataFTP/JRPortalData/790/20131215/790_linka.pdf.
The timetable (not guaranteed) is:
Departures from Terminal 1: 5:30 6:00 6:30 7:00 7:30 8:00 8:30 9:00 9:30 10:00 10:30 11:00 11:30 12:00 12:30 13:00 13:30 14:00 14:30 15:00 15:30 16:00 16:30 17:00 17:30 18:00 18:30 19:00 19:30 20:00 20:30 21:00
Departures from Terminal 2: 5:32 6:02 6:32 7:02 7:32 8:02 8:32 9:02 9:32 10:02 10:32 11:02 11:32 12:02 12:32 13:02 13:32 14:02 14:32 15:02 15:32 16:02 16:32 17:02 17:32 18:02 18:32 19:02 19:32 20:02 20:32 21:02
Arrival to main railway station: 6:04 6:34 7:04 7:46 8:16 8:46 9:16 9:46 10:16 10:46 11:16 11:46 12:16 12:46 13:16 13:46 14:16 14:46 15:16 15:46 16:16 16:46 17:16 17:46 18:16 18:46 19:14 19:34 20:04 20:34 21:03 21:31
Transportation from Vienna
Buses
Transport by bus is provided by the Student agency yellow coaches – see http://www.studentagency.eu/ or, for general information, http://jizdnirady.idnes.cz/vlakyautobusymhdvse/spojeni/. The Student agency coaches are very comfortable, but it is necessary to book in advance. This can be arranged through your travel agency or you can use on-line booking on http://www.studentagency.eu/. Alternatively, you can contact the travel agency Optitravel which is ready to help you – info@optitravel.cz.
Trains
There is also a good train connection from Vienna Meidling – see http://jizdnirady.idnes.cz/vlakyautobusymhdvse/spojeni/. However, it is necessary to get to the train station first – there are special trains running between the airport and the centre of Vienna.
Hotel bus
Hotel services also include paid transfer from the airport to the hotel by our hotel van, a Mercedes Vito XL; the transfer can be booked at the time of booking your accommodation, and the prices are fairly reasonable:
Brno airport – 300 CZK
Prague airport – 3.800 CZK
Vienna airport – 2.800 CZK
(However, please note that the prices are nearly 10-times higher than bus or train prices.)
The transport service is only available to guests of the Continental Hotel; the capacity of the luxury van is 1 to 6 people, see http://www.continentalbrno.cz/en/services.html for more information.
---
ACCOMODATION
The conference will be held at the Hotel Continental Brno, Kounicova 6, 602 00 Brno, Czech Republic, http://www.continentalbrno.cz/en/introduction.html and you can choose this hotel for accommodation, too.
To book your rooms, please contact info@continentalbrno.cz or hosova@continentalbrno.cz. Please make sure to mention "NTCC" or "concrete conference" in your booking letter. Do not try to book your rooms through official on-line booking; the Hotel Continental has rooms reserved for the NTCC conference and the on-line booking application may therefore report the hotel fully booked. Also, special price rates have been made available for the participants of the NTCC, which are around 50 EUR/night for a single room (depending on the current CZK/Euro exchange rate).
You can also make use of other accommodation facilities; e.g. the Holiday Inn hotel. It is probably the best hotel in Brno (see attachment HolidayInnNTCC2014.pdf), but, unfortunately, it is not within the walking distance from the Continental, where the conference will be held. To explore more accommodation options, you can use e.g. http://www.hotel.cz/brno/accommodation/.
---
REGISTRATION FEE
The registration fee (including VAT) will be 450 EURO for regular participant and 200 EURO for student. The fee includes the proceedings, dinners, and coffee at breaks, as well as cultural events and banquets.
Accompanying person fee is 150 EURO (including VAT). The fee includes dinners, coffee at breaks, sightseeing tours, as well as cultural events and banquets.
A sightseeing trip is planned after the conference for participants and accompanying persons. The trip will be paid in site -- 180 EURO.
---
WAY OF PAYMENT
| | | |
| --- | --- | --- |
| Bank: | | Československá obchodní banka |
| Address: | | Milady Horákové 6 |
| | | 601 79 Brno |
| | | Czech Republic |
| Account No.: | | 111044081/0300 |
| Variable code: | | 12400000 |
| IBAN: | | CZ3003000000000111044081 |
| Swift code: | | CEKO-CZ-PP |
| Full name of organization: | | Vysoké učení technické v Brně |
Please send copy of payment to bilek@zpsv.cz. Note: ICO 00216305 and DIC CZ00216305 are used in case of payment from Czech Republic.
Poznámka pro účastníky z VUT: vložné nezahrnuje DPH a činí pro zaměstnance 9.600,- Kč a pro studenty 4.200,- Kč.
---
ORGANISING COMMITTEE
| | | | | |
| --- | --- | --- | --- | --- |
| Vlastimil Bilek | | Zbynek Kersner | | |
---
CONTACT ADDRESS
Dr. Vlastimil Bilek
ZPSV, a.s.
Trebizskeho 207
687 24 Uhersky Ostroh
Czech Republic

Tel.: +420 602 744 586
E-mail: bilek@zpsv.cz
---